I'm doing something different today. I'm so excited because this is a project with my children. My daughter was a member of the Girl Scouts for 2 years. She loved it. I loved how she was involved with the community and made new friends. However, my daughter was younger than the other girls and they were getting into things that I didn't necessarily want my daughter getting into until she was a bit older. My son hadn't gotten involved in Boy Scouts yet so I decided that this was as good a time as any to create a new club.
There is an organization called "Keepers of Faith." Since I am a Christian and want my children growing up, knowing that Jesus died on the cross for them, I thought this was perfect. It allows kids to earn badges for different things. A lot of these are craft based, but some of them are for community involvement too. They have a lot of badges for learning Bible verses. It's set up for a Boys side called "Contenders" and a Girls side called "Keepers." Boys can do things in the girls book and vice versa. Since I want my son to learn how to cook and my daughter learn how to fix a flat tire (that's not in there but I still want her to learn it), I've decided to combine most of their activities.
I'm only going to work on it about twice a month. We'll do a craft (or other worldly thing like learning respect and teamwork) and the next time we'll be working on Christian values. I work very hard to make sure that my children accept everyone, no matter where they are from, what religion they practice, or whomever they love. It's my goal to help my children to create a better world through Jesus Christ. With that said, our first craft was an album. They could have just taken any kind of an album that was pre-made. They could have added papers, or just journaled. I decided to take it a step further. There's a lot of flexibility with this program.
I went to AC Moore and spent $10 on a 30-pack of chipboard 12 x 12 sheets. Shame on me though, I forgot to take a coupon for 40% off and "conveniently" they didn't have any to give me. This is what one of the sheet's looks like:
Since this is an album that they have to create in order to get the badge, they did the majority of cutting. I did a couple of things to show them how to do it safely. They used my "handy dandy" paper cutter to slice it in half, making it 6 inches long. I have to give you a piece of advice – don't use a guillotine, only use the blade cutters. If you use a guillotine, it will strip the board and it won't give you a clean cut. We used a rotary cutter as it was deeper than a standard paper cutter. Makes for a nice, clean cut. Then, because I wanted a 4×6 album for each child, they further cut the longer strips down into 4×6 sheets. Each 12 x 12 sheet gave us 6 of the 4×6 sheets.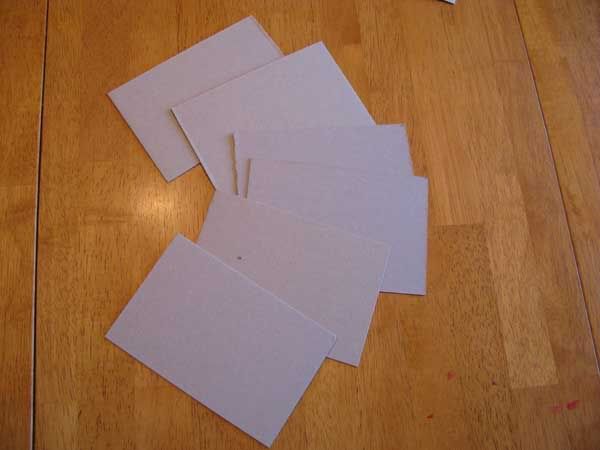 We decided that we should start out with 10 sheets each. This would be the basis for the album. Everything that they'll do will be adhered to these chipboard sheets. Here are the kids cutting and having fun: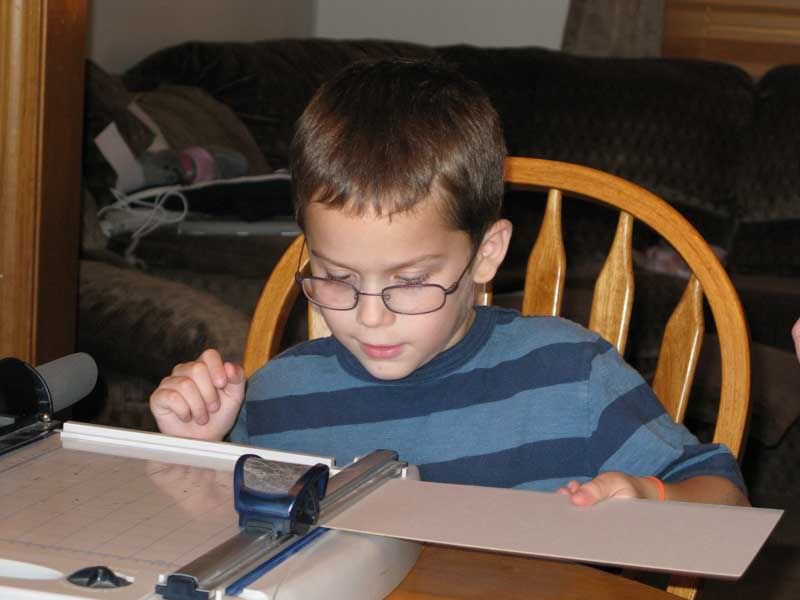 After you have the 4 x 6 sheets, you need to create holes. I hate the one-hole punches and didn't think the kids would have the strength to use them. So I purchased a $4 cheapy from Walmart that was adjustable. I put the holes close enough together to make two holes in the board so that they were evenly apart. On top of that, the kids (and I) needed a guideline. So I moved the 3rd hole over and used the edge as a guide for the board. See how I'm using the edge of the hole maker on the left for the guide?

Okay, so now comes the fun part (as my son said). You'll need some rings. These are sold at craft stores for really high prices! I couldn't believe it! I saw them for $2.50 for 2 in the package. That's $1.25 a piece. Are you kidding me? So I went to Office Max. They also have them at Staples and Office Depot. Unfortunately, I didn't see them at Walmart or Target. These are called "Loose Leaf Rings" at most stores. Even though the package here says Book Rings, the website called them Loose Leaf Rings.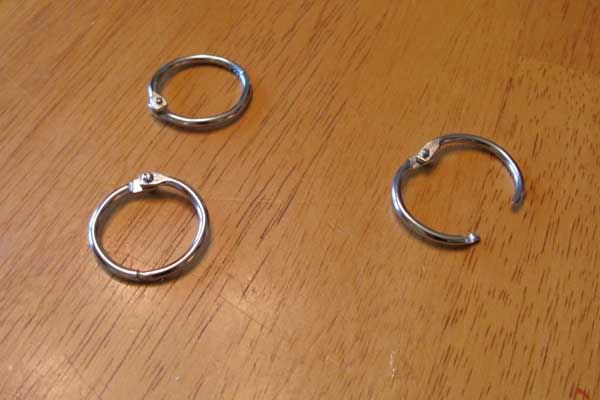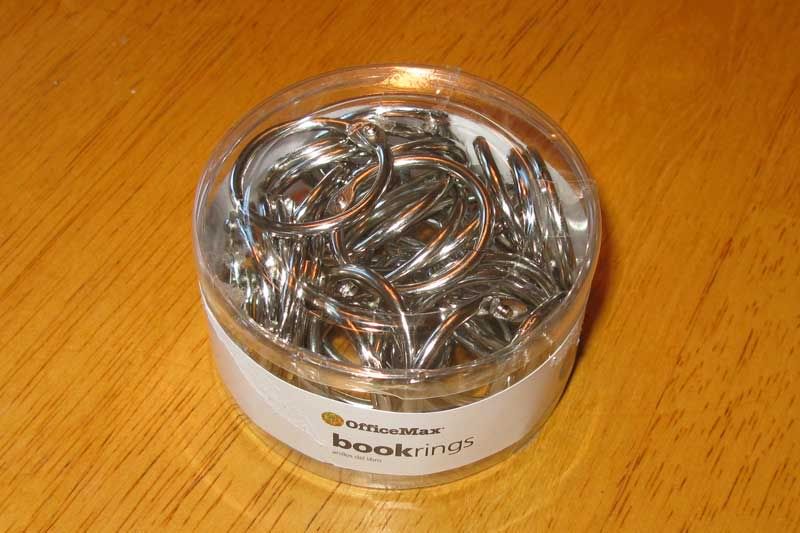 Okay, so what did I pay for these? $6.79 for 40 of them. That's 17 cents a piece! Guess what? That wasn't on sale! I could have gotten them cheaper. Office Max online had a deal going on for these things (wasn't honored in the store though) that was BOGO 1/2 off the 2nd one. I could have also waited until they went on sale but who knew when that was going to be? I purchased the 1 inch rings as I thought they were perfect. I think we could easily fit 25 of the chipboard sheets on here comfortably. If I'd gotten the 2 inch ones, it would have been too big. Each child took 2 rings. and slid them through the holes to finish it off.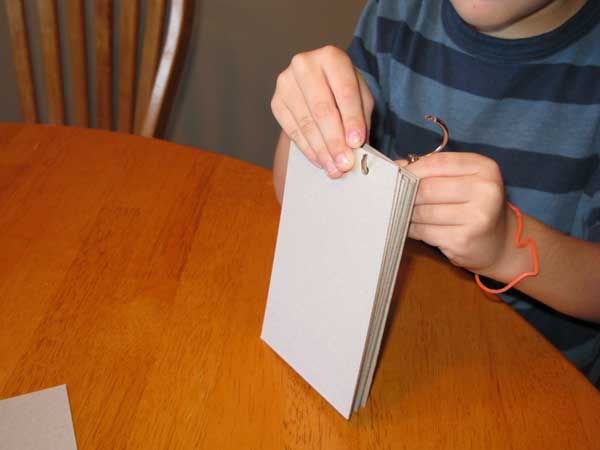 Now that the album is completed, they need to learn their Bible Verse and they'll have earned their first badge! We've decided that since school is starting right after Labor Day, they will use this album to chronicle their memories of this year. I'll be printing out digital papers and they can get stickers or other elements to decorate. We'll decorate one page at a time and I'll share it here with you. I hope you've enjoyed this tutorial. It's a simple one that pretty much anyone could figure out how to do and requires very little time or effort. See you next time! ~Denise