I needed to change up the look of my blog. This is a temporary fix. Anyone know of any good free themes? This one is horrible for design purposes. Like the birdhouses but the block for posts is too narrow. I need to do a lot of things but haven't done them. I can't believe it's been almost a year since I last posted anything. I was working on school work and quite frankly, I just had no motivation for anything. No, seriously! It was so bad that my husband would do laundry on the weekends. I don't know what my problem was but it seems to be gone now. Maybe it was one of those 305 day viruses, LOL. Ever since the new year began though I've been motivated beyond belief. I feel well and refreshed. Maybe I just needed a break. Yeah, we'll go with that one!
I've taken on some new projects. I purchased a wonderful camera that was used from Cameta Camera. They had excellent customer service. I knew I wanted a digital camera that would last me a really long time but had the full features of changing the ISO, aperture, and shutter speed. I did some research, okay a LOT of research, and came across the Nikon D80. I ordered it from Cameta and have been in love ever since. However, that love also brought on some hate. I don't know how to use a camera like this, even though I want to learn. The good news for me is that I have a friend who is a photographer. My friend Shelli over athas been a professional in her field for many, MANY years! I love her stuff. My problem started after I got the camera and would ask how to get better shots indoors. She'd give me some settings, I'd set them and they'd still come out bad. Yeah, doesn't work so well over the phone.
So finally, a couple of weeks ago we both had some free time. We were tired of talking work related things and I asked her again about taking photos. I had just spent an entire day at my niece's baptism taking photos, only to find out that most of them were blurry due to being indoors and my desire to not distract with flash photography. So she downloaded my user manual and we set to work for about 2 hours. Such an amazing teacher! I learned so many things and wrote them down on bright pink Post-It notes that are now attached to my monitor for continuous reference. So playtime had to become a necessity. I played in the house. I have some really poor lighting because windows are on the smaller side. But after playing with the settings, I was able to see things in the rooms where I would only get a black screen before. Here's a couple of shots in my dining room. You can see how the settings make a difference as they get changed.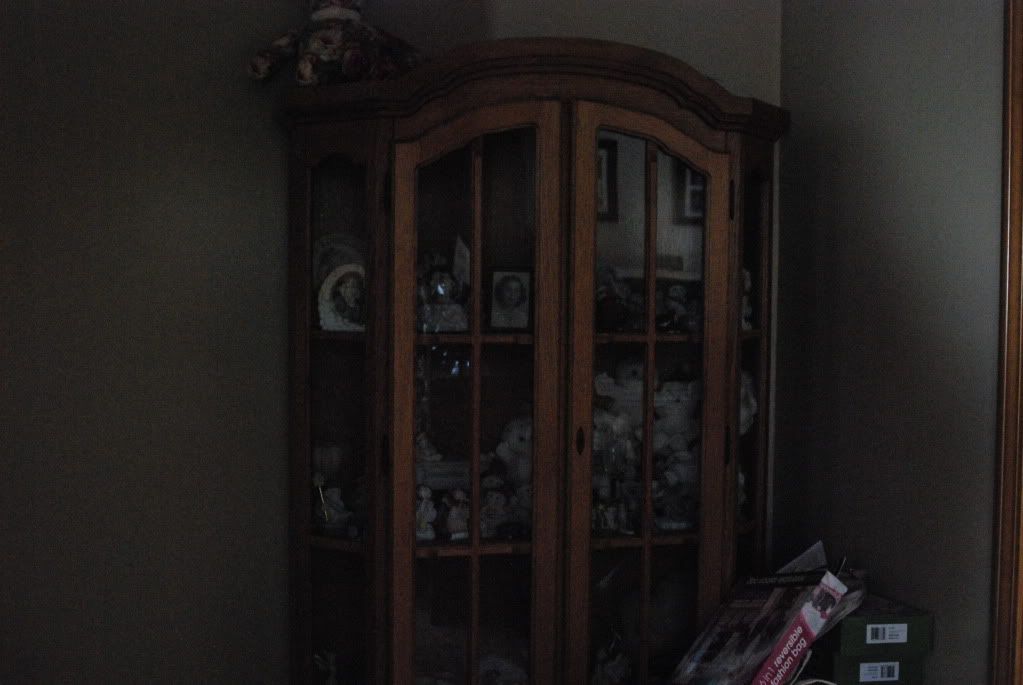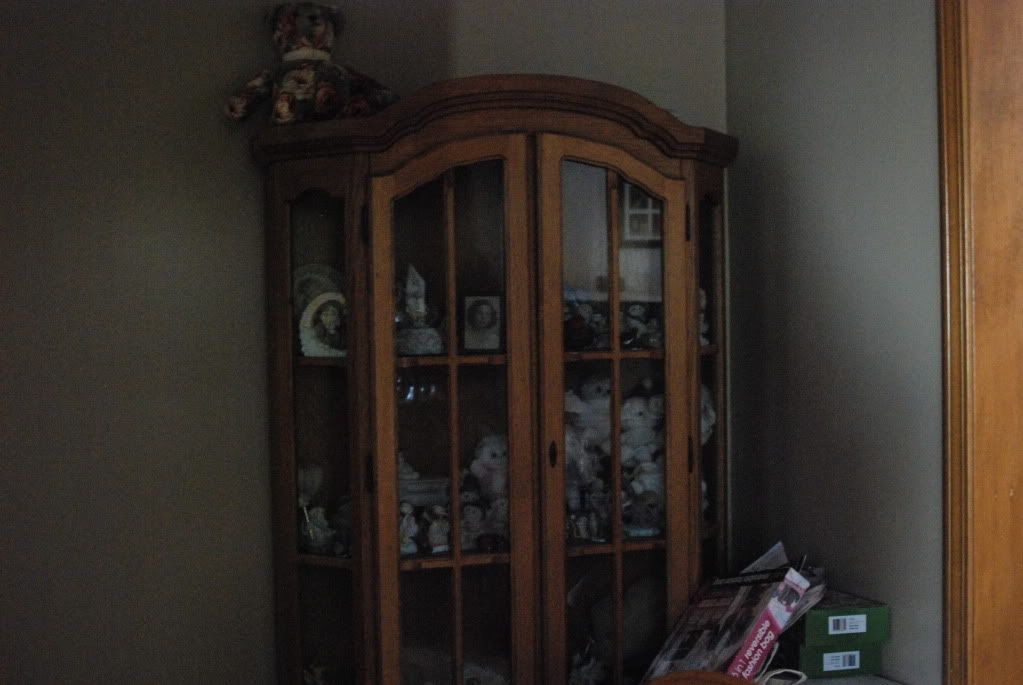 The following day I needed to take my children to their gymnastics class which has always been problematic when taking photos. Since my friend was going to be on a photo shoot, I knew I would have no life line on the phone to call. I had to study what she told me and put it into action. This being the key word because action is all that you see at a gym. Armed with my camera and limited knowledge, I started off with just trying to get the ISO and aperture just right so that I could see the kids after taking a shot. Here I am playing. See how white it is at the beginning?
Then I went to the extreme opposite as can be seen in this photograph:
Eventually, things started balancing out. I would need a different lens that would allow a wider aperture because this is as open as it will go so I would need to adjust in Lightroom or Photoshop if I want it to be better. But I was satisfied with the results: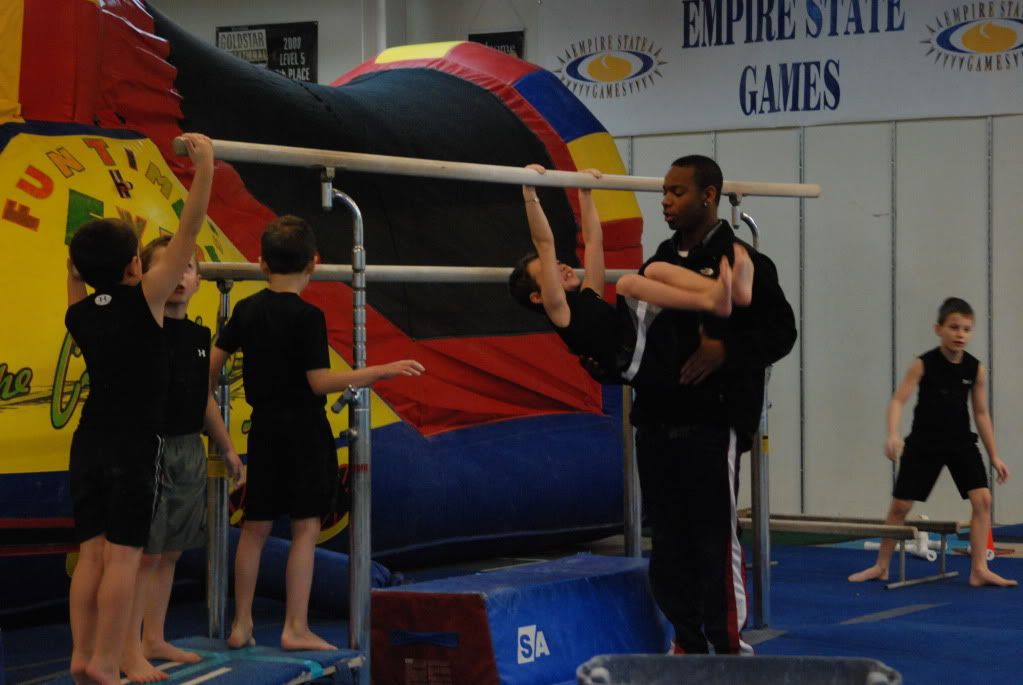 Next, I needed to get the shutter speed down because the movements are so quick! I started out poorly and then got better. If I'd had more time I think I would have done a lot better by the end. But either way, I was very satisfied with what I did and how I was able to apply what I learned: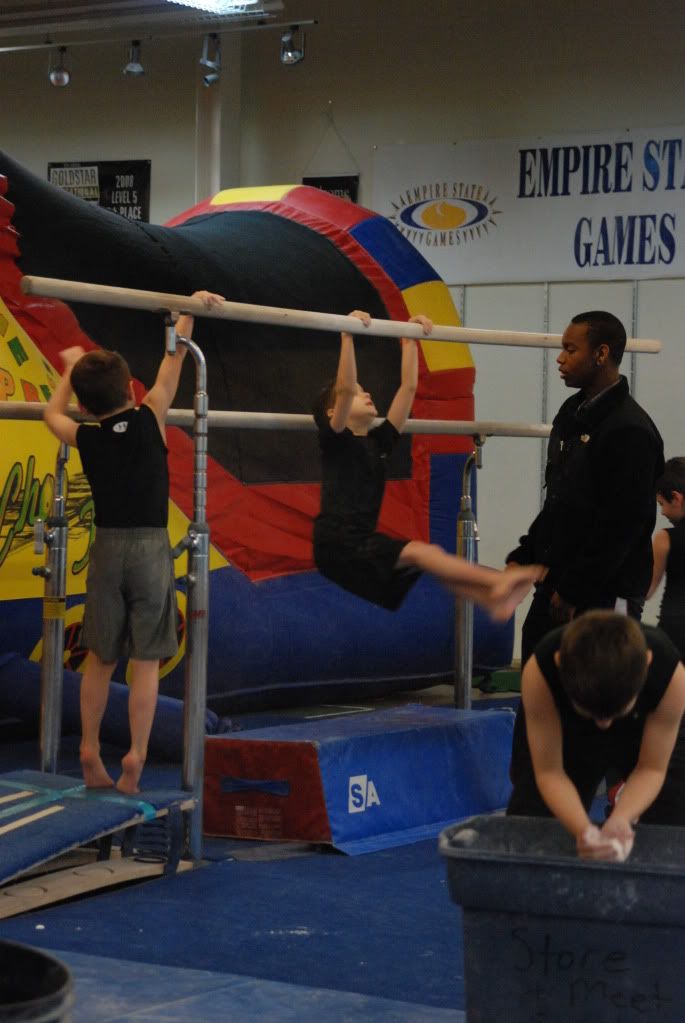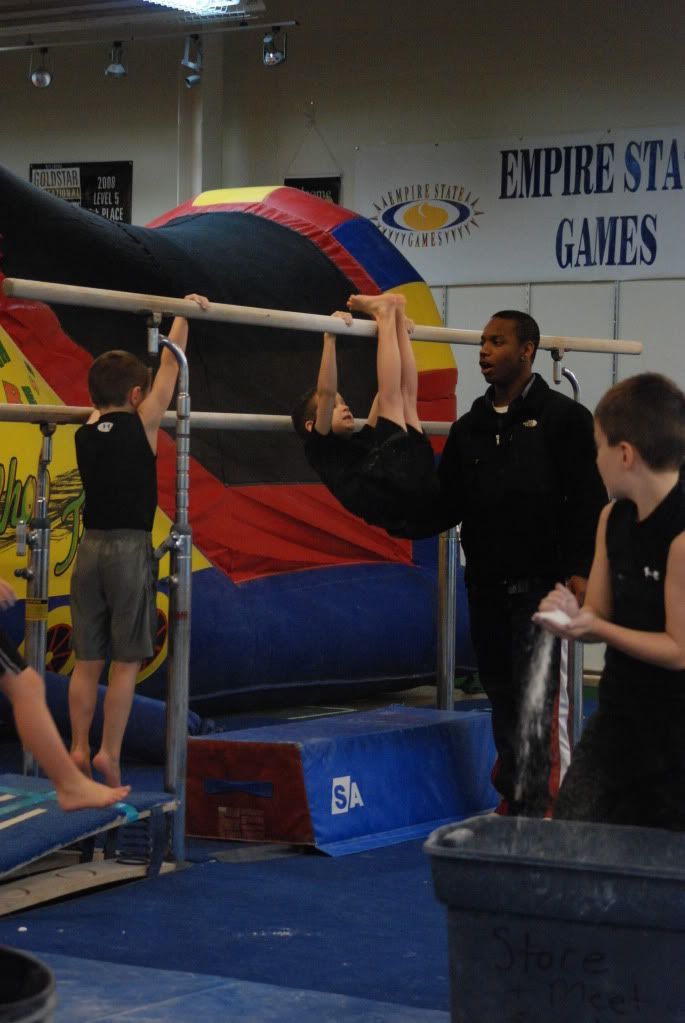 Here is my little man doing a superb job. He received a great compliment from one of his coaches for this move: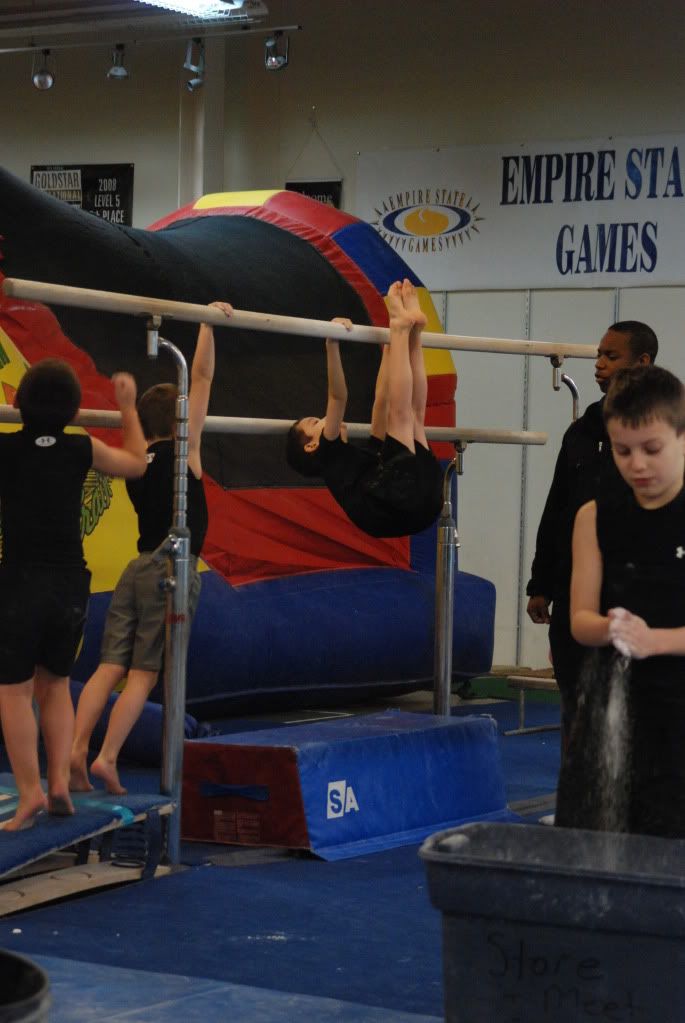 On to the floor moves and more shutter speed playing: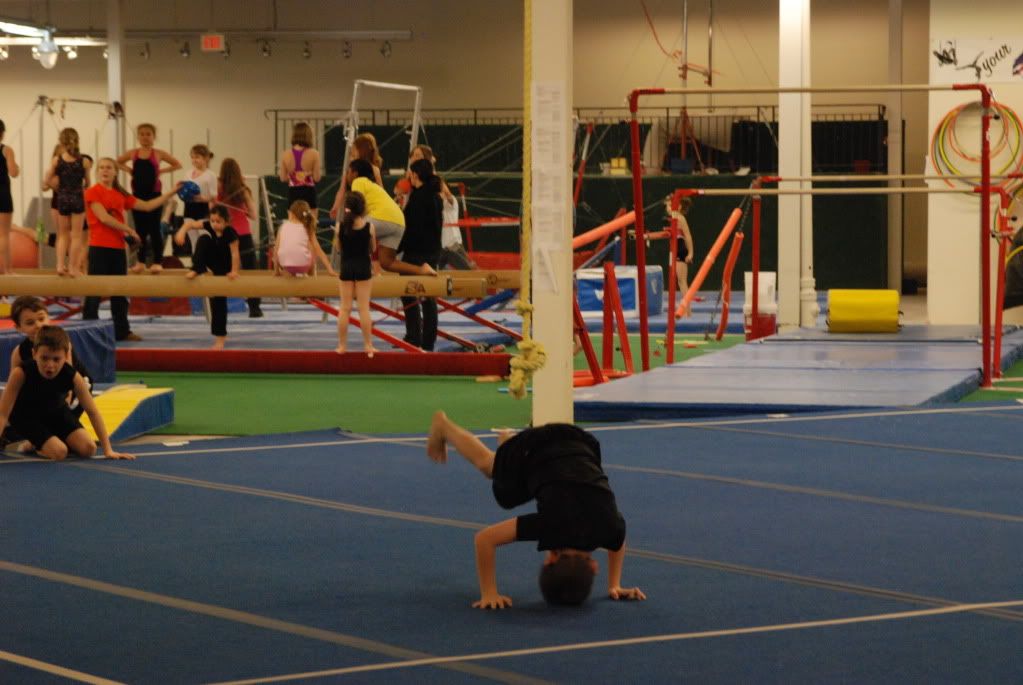 Later on that evening I decided to step out on my back porch and get some shots of the moon. We had clouds out and it was super cold. I first took a photo of my children playing in the snow that hasn't been here in New York much this year. It's so funny! Look how my daughter seems to have 4 eyes! Not a good shot but wanted to share it anyway since I got a kick out of it and it shows how you really need a tripod for night shooting.
I went ahead and took some shots of the moon with the tripod. My main concern wasn't if they would be blurry or not, but more of the idea that you can see the moon. I accomplished that so was very satisfied. Shelli did tell me that if the clouds hadn't been moving, my photos would most likely not have been blurry. But it's the clouds that are moving so it's blurry. Gotta speed it up I guess, LOL. I still like the shots though, they have an eerie feeling to them which makes them cool. Add in the fact that I did this myself and it makes it even cooler because I've never been able to do this!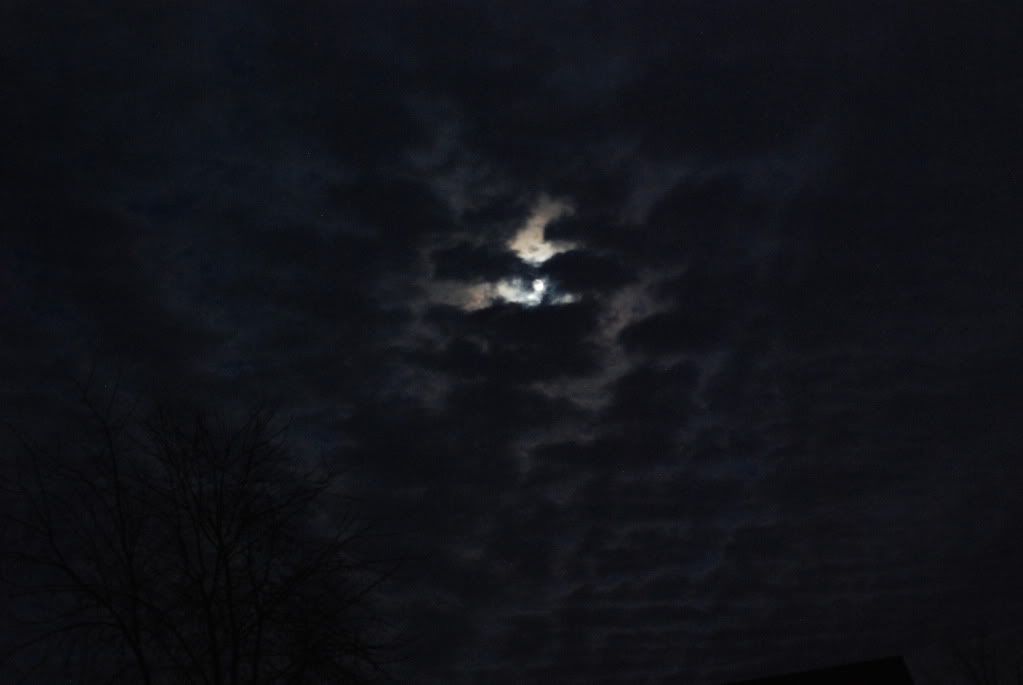 I can't wait until the next time we go to Niagara Falls so I can play more with the shutter speeds. I want to try and get it to where I can see each drop or to make a waterfall look like it's stopped in motion. I also want it to be wispy with action. I am going to have so much fun with this camera! I was given an assignment by Shelli to do some nighttime work. Now I just have to get it done. I can't thank her enough for all the help. If you have any questions about how to use a camera or if you're in the Dallas/Ft. Worth area in need of a photographer, look up Shelli Nicole Photography. Tell her I sent you and she'll hook you up with a great deal.